Summary:
When using EMV:
Customer is prompted to enter a Language after inserting credit card 

Customer is (or is not) prompted to sign on the iSC250, and no signature confirmation appears in Counterpoint. 

Signature threshold is no longer an option, and is not configurable in Counterpoint.

Customer is prompted for PIN entry when using a dipped/CHIPPED credit card, but merchant does not accept Debit.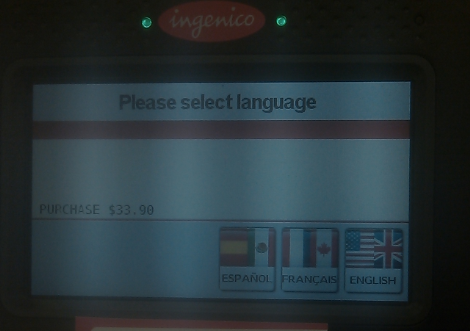 Solution:
Once a merchant is configured to use EMV the prompts that appear to the customer are initiated through Uniterm, Counterpoint no longer controls what the customer is (or is not) prompted for on the Ingenico iSC250 payment terminal. 
The language selection is embedded in chip card itself; it is the chip in the card that determines if this prompt will appear.  This is a prompt that comes directly from Uniterm.  

There is no way to prevent this from showing in NCR Counterpoint. 


In 8.5.4.1 the prompt for Signature is controlled by a checkbox option on the NSP Account, if using EMV. 



The Signature threshold is no longer an option when using EMV.  This field is no longer available to configure.  In addition, t

hese Pay Code options are no longer recognized, Uniterm will override these previously configurable options.



EMV chip cards are programmed by the issuer to ask for EITHER signature or PIN. This is not a debit PIN, but a PIN that the cardholder sets up prior to using the card. Counterpoint does not currently accept chip DEBIT cards. All chipped / inserted card transactions will be processed as type: Credit.  If prompted for a pin when using an EMV CREDIT card, that means the issuing bank has programmed the card to use a PIN for authentication. The cardholder should have received communication from the issuer (notice, letter, sticker on card) upon receipt of the card to indicate this. A customer cannot use the card if they are prompted for a PIN and have not yet assigned a PIN to that card. If the customer has not yet set up the PIN or if the PIN is unknown, then another form of payment should be used.